"Another masterpiece of Art Deco along Route 66 in Tulsa is the Blue Dome. The Blue Dome was built in 1924 and served as a Gulf Oil Station. This was the first station in Oklahoma to have hot water, pressurized air and a car wash. It was also open 24 hours, seven days a week. The station attendant lived upstairs in the dome itself. "--
BestofTulsa.com
The Art Deco Blue Dome Gas Station
On a recent long layover in Tulsa, OK my first officer introduced me to a smart phone application he had on his device. It finds "Happy Hours" in your area based upon your GPS location. Now THAT makes for a VERY smart phone!
We had arrived around noon and decided to try out the "app" later that day. The first location it found was a place called "Orpha's" about four or five blocks away. It advertised cheap beer, so off we went. We walked in and quickly determined that it was not an "appropriate" place for us (more on that later).
So next, we set off for "Arnie's" another five blocks away. It was in Tulsa's "Blue Dome District." We surmised that if it was in a named district, it had to be decent. We discovered a friendly place with an outdoor patio that allowed us to take advantage of the beautiful day (as opposed to the dark, smokey questionable first bar). We sat outside with a $6.00 pitcher of Killians and enjoyed the ambiance, striking up a conversation with a couple seated near us. After asking us where we were from, and learning why we were in Tulsa, we told them how we came to discover the place. They laughed and were incredulous when I told them about Orpha's. "That's where all the homeless people go!" they laughed. I asked why the area was called the Blue Dome district. Pointing up, they said, "that's why."
As I peered up, I saw........a blue dome. Arnie's is right next door to w

hat once was a 1920s gas station that attracted Route 66 travelers with its Art Deco blue dome. It is now the hub of Tulsa's downtown nightlife scene. It is a great area to find p

ubs and good restaurants. The district regularly plays host to the best in local bands and is also known for its annual art festival featuring local artists. For more information, here is a link:
http://www.visittulsa.com/icons/20/blue-dome-district/
We left Arnie's for a delicious Mexican meal at nearby El Guapo's, sitting at the bar on the roof where I enjoyed some awesome Mahi Mahi fish tacos. We went back to Arnies, enjoyed the rest of the evening and walked back to our hotel. Tulsa and the Blue Dome District is now on my list of places to go on layovers.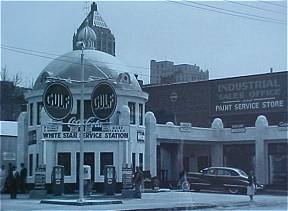 The Old Gas Station in its Heyday